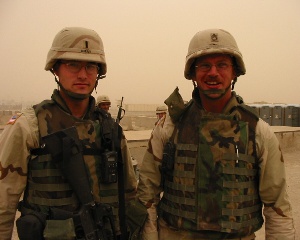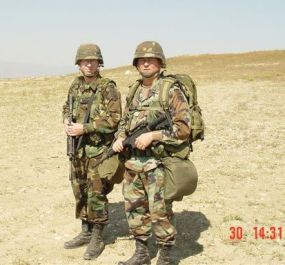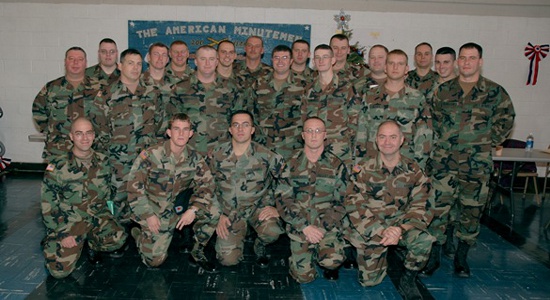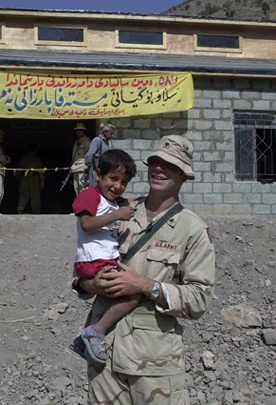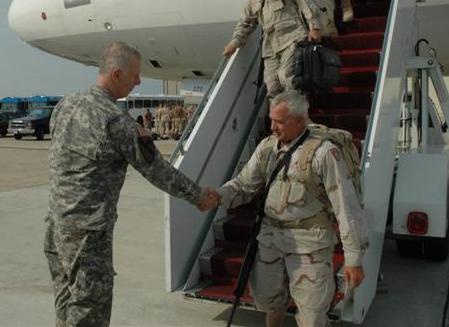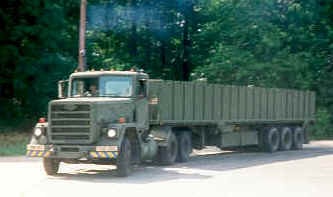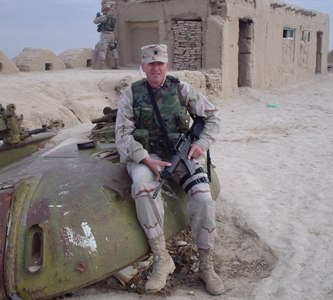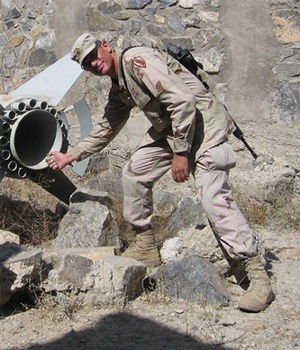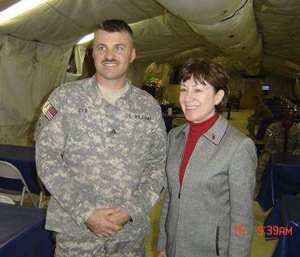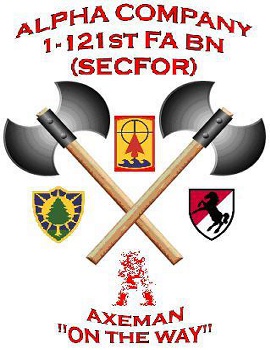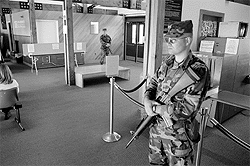 Participation in the Global War on Terror

Deployments/operations involving Soldiers from the Battalion since September 11, 2001

The Association would love to hear more about these missions from those who were involved in them. Please visit the forums through the Bulletin Board and tell us more so we can expand on the info here. And if you really want to help, volunteer to take on responsibility for a page or pages for a mission so we can really do it justice.

(c) 152nd Field Artillery Association, 2009

Operation Friendly Skies
was the Maine National Guard's airport security mission implemented shortly after the attacks of September 11, 2001.
In Maine, approximately 80 soldiers and airmen were assigned to help secure the airports in Portland, Rockland, Augusta, Trenton, Bangor, and Presque Isle. The 1st Battalion, 152nd Field Artillery mobilized 18 soldiers; ten at Presque Isle, three at Augusta, three at Trenton, and two at Bangor. The mission began with one day of FAA training on October 4, and the teams were on-site at the airports on October 5. The mission ended in May 2002.

Operation Secure Borders
augmented the United States Customs and the Immigration and Naturalization Service (INS) agencies at ports across the United States, beginning in March 2002. In Maine, 104 soldiers, including 73 from the 1st Battalion, 152nd Field Artillery, served at ports all along the Maine-Canada border. The mission ran through August for those in support of the INS, and through October for those working with Customs.

112th Medical Company (Air Ambulance) and 1136th Transportation Company
. The first call to mobilize soldiers for overseas deployment came in late-January 2003 with a tasking to provide soldiers to fill shortages in the 112th Medical Company (Air Ambulance), another Maine Army National Guard unit. Shortly thereafter another call came to provide soldiers to the 1136th Transportation Company. In March 2003, four soldiers from the 1-152 FA were transferred to the 112th and deployed to Kuwait and Iraq for a year, where the company's Blackhawk Helicopters flew 3,600 combat/imminent danger hours involving the transport of 1,200 patients in Iraq and Kuwait. In April, eleven soldiers from 1-152 FA transferred to the 1136th and deployed to Kuwait for a year.

1-152FA (Forward).
On October 27, 2003, the battalion received a warning order to be prepared to mobilize a battery-sized unit of 124 personnel to act as a Military Police company in Afghanistan,. referred to as an "In Lieu Of" military police (ILO MP) company. The battalion selected A Battery, led by Captain Phillip Trevino and First Sergeant Mike Lord, to be the core of the ILO MP company, augmented by a platoon from B Battery and a handful of soldiers from the other units of the battalion. This unit came to be known as 1-152 Field Artillery (Forward) and mobilized on January 3, 2004. Eventually the mission changed from Afghanistan to Iraq, and ultimately to the infamous Abu Ghraib prison. Washington Post article

1-152FA (FWD) Platoon Leader 1LT Murray and Platoon Sergeant SFC Cowett in Iraq

CW2 Cliff Caldwell (left) and MAJ Bill Hurley during post-mobilization training at Ft. Carson

ANA Mission.
In September 2003, eleven soldiers of the Maine Army National Guard mobilized as part of the 3rd Battalion, 172nd Infantry (Mountain)(Vermont ARNG) and deployed to Afghanistan to serve as mentors to an Afghan National Army (ANA) infantry battalion. Two soldiers from 1-152 Field Artillery, Major Bill Hurley and CW2 Cliff Caldwell volunteered for this mission and returned in August 2004.

Training Base Expansion - Fort Sill.
In November 2004 the battalion HQ received a tasking from the National Guard Bureau to provide 31 fire direction personnel to deploy to Fort Sill, Oklahoma for one year in support of the artillery school. This mission took any FDC personnel that weren't already deployed (1-152 (FWD) was still in Iraq at this point), leaving some doubt as to how the battalion would fire artillery during Annual Training in 2005. Twenty-four soldiers arrived at Fort Sill on January 13, 2005. Seventeen were assigned to the 2d Battalion, 2nd Field Artillery battalion and manned Fire Direction Centers to provide live artillery fires in support of the Field Artillery School. The remainder were divided between the 1st Battalion, 78th Field Artillery and the 1st Battalion, 30th Field Artillery as instructors. SFC Alen Willett, the group's NCOIC, was selected to be the Course Manager for the Enlisted Gunnery Section.

"Here's some news that should make everyone proud of our deployed 13D Field Artillerymen. 17 of our soldiers are assigned to the same Battery (2nd Battery, 2nd FA) There is a total of about 100 soldiers assigned to that Battery, most of which are Active Duty Soldiers.

"They had a "Red Leg" induction competition yesterday for the Battery. The competition consisted of pull-ups, sit-ups, push-ups, an obstacle course, and then finished with a 3.8 mile run. Maine FA soldiers took the first 4 places !!!! Our Maine FA soldiers placed first, second, third and fourth. That is pretty Hooah !!!!

"Maine soldiers continue to "Lead by Example" and make us proud !!

GREGORY R SMALL
CSM, MEARNG
Command Sergeant Major

Email from the State CSM to MeARNG staff and units, January 27, 2005

Individual Deployments


In August 2003,
Lieutenant Colonel Verne McMoarn
(left) left the battalion to deploy to Afghanistan as a logistics mentor for a year.
Captain Dave Bremer
(right) followed him a month later. In August 2004,
First Lieutenant Mike Stanco
deployed to Guantanamo Bay Cuba for a one year mission. In November 2005,
Staff Sergeant David Boone
of 1st Platoon A Battery volunteered to deploy with the 198th MP Company (Kentucky National Guard) to Iraq.

SECFOR I.
In November 2005, the battalion was tasked to cross-level 48 soldiers to B Company, 3-172nd Infantry (Mountain) for a one year deployment to Iraq as a convoy security force (SECFOR). B Company (aka "The Mountain Company"), under command of Captain Darryl Lyon, grew to nearly 170 soldiers and mobilized in January 2006. The company arrived in theater in March and performed convoy security missions for the next year. One platoon was located at the Baghdad International Airport (BIAP) and secured convoys in and around Baghdad, while the Company (-) was based at Talil and performed one- to four-day missions throughout Iraq.

240th Engineer Group.
In November 2005, the battalion was tasked to cross-level
three soldiers to the 240th Engineer Group for their one-year deployment to Afghanistan. In January 2006, SGT Cyr, SSG Judkins, and MSG Corriveau from 1-152 FA joined with about 80 other soldiers in the Group and departed for their mobilization station, Camp Atterbury, Indiana. Another long-time FA soldier, Master Sergeant Darrell Hanning, cross-levelled to the Group as well, but had recently left the FA battalion in order to accept a promotion at the 52nd Troop Command. Once in theater, the Group, known as Combined Task Force Chamberlain, provided command and control to engineer battalions, operating initially out of Bagram, then relocating to FOB Sharana.

SECFOR II.
In late-January 2006, the battalion had only 30-some soldiers left that were available deployment. So sure enough, we got the call to form the core of a 86-person unit to deploy with a Wisconsin ARNG artillery battalion for another Security Force (SECFOR) mission. Captain Kent Cousins, 1SG Paul Eubank, and thrity other soldiers from 1-152 FA, and another fifty+ from other Maine ARNG units mobilized on April 19, 2006 and days later travelled to Camp Shelby, Mississippi, where they became Alpha Company, 1-121st Field Artillery, also known as SECFOR II. The new company arrived in theater in July and based their convoy security operations out of Camp Navistar.

133rd Engineer Battalion (Combat)(Heavy).
Only a week following receipt of the 1-152FA (Forward) warning order, the 1-152 FA received an order to cross-level about a dozen soldiers to fill critical shortages in the 133rd who'd been alerted for deployment to Iraq. The battalion mobilized in Decmeber 2003 and was in theater by mid-March with over 500 soldiers. Operating primarily in northern Iraq, the battalion's missions included infrastructure repairs, coalition Force Protection and quality of life projects, and construction of facilities such as schools in direct support of the Iraqi people. The battalion returned to Maine in March 2005.

152nd Field Artillery Association

152nd Maintenance Company.
In December 2004, the battalion was tasked to cross-level soldiers to the 152nd Maintenance Company for an OIF deployment. In January, 113 soldiers, including 10 from the 1-152 Field Artillery, were mobilized, and arrived in theater in mid-April 2005. Once in theater the unit performed security functions at Camp Liberty. See Portland Press Herald article

Group photo of the 13D's at the Welcome Home, Presque Isle Armory on December 6 , 2005

Spc. Ryan Burkhart of Company A, 133rd Engineer Battalion (attached from C Battery, 1-152 FA), says goodbye to a young boy the unit befriended during the two months it took to construct a new primary school in the village of Brayte in eastern Irbil Province.
Photo by Sgt. 1st Class Julie Friedman 139th MPAD, Task Force Olympia Public Affairs Office

Major General Bill Libby, Maine's Adjutant General, greets SSG Sonny Waugh (from HHS Battery) at McGuire AFB in April 2006 after a year in Iraq with the 152nd Maintenance Company.

Sergeant Scott Cyr, from C Battery 1-152 FA, shmoozes with Senator Susan Collins at FOB Salerno, Afghanistan. SGT Cyr, cross-leveled because of his cook MOS, served as the Group TAC Operations Sergeant.

1-152FA soldiers standing guard at the Hancock County-Bar Harbor Airport in Trenton
(Ellsworth American photo)